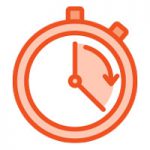 Now that the school year is underway, the Kronos Project Team would like to share some helpful resources and reminders with all employees to help ensure weekly timecards are accurately capturing employee time and attendance:
Brush up on Kronos fundamentals.
Whether you are a new employee or not, our New Employee Guide to the Time and Attendance System is full of useful information and links to training and videos to help you become a confident Kronos user.
Review your timecard.
Every employee needs to look at their timecard! If at any time you don't understand your timecard or think your time is not reflected appropriately, please contact your supervisor/timekeeper to get clarification or assistance with corrections. If you are a non-exempt (hourly) employee entering punches, it's a best practice to glance at your timecard every day to spot issues.
Are there red boxes indicating missed or errant punches? (If so, ask your supervisor/timekeeper to correct as soon as possible.)
If you were absent, are leave hours captured correctly?
Are there shortfalls indicating insufficient work hours?
Approve your timecard.
Every Monday, please do a final review of the previous week's timecard and approve it if there are no issues. If your timecard needs corrections by your supervisor or timekeeper, don't approve it until those corrections are entered.
Get help when you need it.
Remember: It's YOUR timecard. Please help ensure your time and attendance is captured appropriately!
---
Questions? Please contact time@k12albemarle.org.