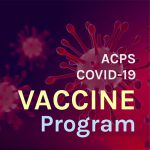 First Dose Vaccine Update
If you have indicated a desire to be vaccinated, but have not yet been able to make an appointment for the first dose of the COVID-19 vaccine, you should have received an email from the Blue Ridge Health District (BRHD) prompting you to schedule an appointment to receive the vaccine. The email includes a link to schedule your appointment through Eventbrite. If you have not already done so, please register for an appointment through the link in that email as soon as possible.
If you desire the vaccine and have not received an email from the BRHD to schedule through Eventbrite, please email your name and school/department to vaccine@k12albemarle.org. We will continue to work closely with the BRHD to get your vaccination scheduled as soon as possible.
Volunteer Opportunity
Later this week, Monticello High School will be the site of a vaccine clinic for community members who are 65 and older. The clinic will be operated by Albemarle County and the BRHD and is by appointment only. Participants will be identified from online registrations with the Virginia Department of Health. (Albemarle County Public Schools is not involved in appointments or identifying participants.)
In order to make this event a success, the clinic is in need of volunteers. We encourage as many of our staff as possible to support this important community event by volunteering. Please consider signing up for a shift on either Friday, March 5, or Saturday, March 6.
If you volunteer during your regularly scheduled work hours, you do not need to take leave; however, any additional hours will not be paid. Please coordinate with your supervisor prior to volunteering for a shift during your work hours.