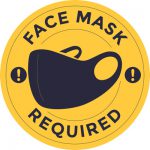 Dear Colleagues,
As you may have heard, earlier this month, Governor Ralph Northam lifted Virginia's indoor mask mandate to align with new guidance from the Centers for Disease Control and Prevention (CDC). This updated guidance, detailed in Executive Order Seventy-Two (effective May 14) and Executive Order Seventy-Nine (effective May 28), continues to require masks to be worn in K-12 public schools by all students, teachers, staff and visitors, regardless of vaccination status.
In partnership with our local health department and area physicians, Albemarle County Public Schools will continue to enforce our Policy on Masks and Acceptable Face Coverings through at least the end of the 2020-21 school year. This policy requires students and employees to wear a mask or acceptable face covering at all times, regardless of physical distancing, in an ACPS school building, in another ACPS facility, on a school property or campus, or in an ACPS vehicle or bus.
Thank you for your continued support of our efforts to provide a safe and healthy environment for our students, employees and visitors.
Sincerely,
Rosalyn Schmitt
Chief Operating Officer