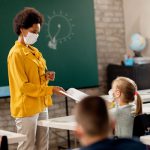 At midnight on June 30, Governor Ralph Northam's declared state of emergency for the Commonwealth expired, relaxing several of the public health requirements associated with the COVID-19 pandemic. Among those provisions was the wearing of face masks in public settings.
In anticipation of this action and following significant declines in the spread of the virus in our community, the Albemarle County School Board reviewed several updates to our mask wearing policy during their June 10 business meeting. Those updates and additional revisions will come up for a vote during the board meeting this evening, Thursday, July 8.
Among the new provisions are that students, staff, and all visitors to school facilities will have the option of not wearing a mask while on school property outside of buildings. Also, when students are not present in a building or on a school bus, staff members and visitors who have been fully vaccinated may remove their masks while indoors. Staff should continue to wear a mask if they are interacting with a visitor and if 6 feet of physical separation is not possible.
If approved by the school board on Thursday evening, these updates will immediately go into effect.
While the governor's initial order on wearing masks has expired, the State Health Commissioner has issued a public order that requires masks to be worn by all individuals 5 years of age or older when students are inside schools or in other instructional settings. This is a temporary order that will expire on July 25. The state has said that separate guidance will be issued for the new school year that begins on August 23.
As has been the school division's practice, ACPS will continue to closely work with the health department to monitor COVID-19 data and the latest guidance from the health department and the Centers for Disease Control and Prevention (CDC). Further adjustments to our mask wearing policy will be made as necessary for the 2021-22 school year.
View the proposed policy revisions that the school board will vote on this evening.