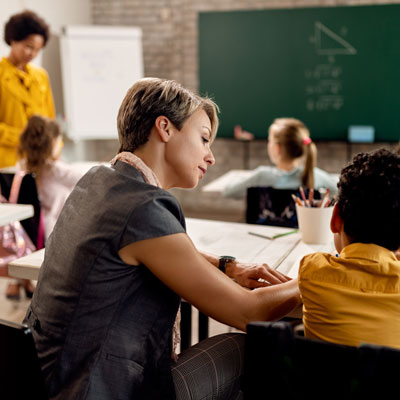 Albemarle County Public Schools has received a $200,000 grant from the Virginia Department of Education to support a path to teaching via apprenticeship! Human Resources is now seeking dedicated and passionate teaching assistants with an associate degree to join our two-year apprenticeship program. In this unique opportunity, participants will train alongside a skilled Master Teacher for two years, developing valuable classroom skills. This two-year position leads to full licensure and preparation to serve as a teacher of record.
Program Overview
In two years, participants will complete their bachelor's degree, receive two years of on-the-job training with a Master Teacher, and commit to three years of service beyond completion of the program.
Benefits
Progressive salary increases as you master new teaching skills and techniques
Full tuition paid to complete your bachelor's degree at James Madison University
Qualifications
Participants must:
Hold an associate degree.
Be passionate about education and eager to make a positive impact on the lives of Albemarle County Public Schools students.
Possess strong communication and interpersonal skills.
Be willing to complete a bachelor's degree while apprenticing full time.
Learn More & Apply
Don't miss this chance to gain valuable experience and further your career in education! For more information about this opportunity, visit our Teacher Apprenticeships web page. You can also learn more and apply through our job posting: Apprentice (Teacher in Training). Please apply by August 11!
If you have any questions, please contact Dr. Sarah Lynn or Dr. Jason Sears.