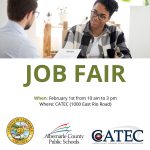 Saturday, February 1, 2020 | 10 a.m. to 3 p.m. | CATEC
This Saturday, February 1, Albemarle County Public Schools, Albemarle County Local Government, and the Charlottesville Albemarle Technical Education Center (CATEC) are collaborating to sponsor the ACPS/AC Local Government/CATEC Job Fair!
We are looking for enthusiastic, dynamic, and forward-thinking candidates to join our team of teachers, specialists, teaching assistants, substitutes, bus drivers, bus monitors, cafeteria workers, and staff members for the after-school and summer school/enrichment programs, construction trades, fire, police, rescue, and social services.
This free event is open to the public on Saturday from 10 a.m. to 3 p.m. at CATEC, located at 1000 East Rio Road in Charlottesville. Please encourage your job-hunting friends, especially prospective educators, to attend, and tell them to bring their resume!
Questions? Want to schedule an interview? Please contact Daphne Keiser, Director of Educator Quality, at dkeiser3@albemarle.org or (434) 296-5827, ext. 3275.