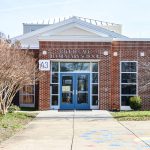 At their January 23 meeting, School Board members formally voted to change the name of Cale Elementary School to Mountain View Elementary School, effective July 1.
Cale is the first of 14 schools to be reviewed following a directive from the School Board to the Superintendent that school communities review the names of all schools named for individuals. Recent changes to School Board Policy FA, Building and Naming Facilities, require that advisory committees be appointed to review school names for consistency with the school division's core values of excellence, young people, community, and respect.
The review, Superintendent Haas has said, also provides students, staff, parents, and community members an opportunity relatively unique in public education—the chance to be part of a process that names their own school.
Also at the January 23 School Board meeting, it was announced that Sutherland Middle School, named for a former School Board and Board of Supervisors member, is the next school to be reviewed. For more information on how the community will be involved, please read our recent news release.
For your reference, the school division has created a School Naming Review web page that provides current information on school name reviews and progress updates in meeting the School Board's direction.