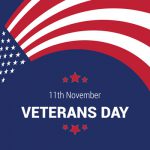 Tomorrow, Wednesday, November 11, is Veterans Day, a day to honor America's veterans for their patriotism, love of country, and willingness to serve and sacrifice for the common good. On behalf of the Albemarle County Veterans Affinity Group, please see the information below about local Veterans Day events occurring this week.
All government offices will be closed on November 11, 2020.
The Daily Progress will publish its annual Veterans Day Hometown Heroes insert recognizing local veterans on November 11.
Monticello is proud to offer U.S. military veterans complimentary admission to Monticello for Veteran's Day. (Admission for active-duty military personnel is free year-round.) Check out Monticello's Honoring American Veterans web page for more information.
The University of Virginia Reserve Officer Training Corps started their 24-hour vigil in remembrance of soldiers, sailors, airmen and marines who never returned. The ceremony will end today, November 10, at 3:30 p.m. with an address from retired USAF Lt. Gen. Tad J. Oelstrom and a traditional three-volley rifle salute (21-gun salute). The public may attend by seating themselves near UVa's McIntire Amphitheater. Social distancing is required.
American Legion Post 74 (Charlottesville) will host a Veterans Day Wreath Laying Ceremony on November 11 at 11 a.m. The event will feature guest speaker Christopher Wingate, Lieutenant Colonel, U.S. Army (Retired) and Senior Army Instructor for Albemarle County high schools. This event is closed to the public, but will be live streamed on the American Legion Post 74 Facebook page. This outdoor event will be canceled in the event of inclement weather.
American Legion Post 128 (Greene County) will host a 2020 Veterans Day Ceremony at the District Courthouse in Stanardsville at 85 Stanard Street on November 11 at 11 a.m.
Gratitude Charlottesville is hosting the Virtual Freedom 5k 2020 through Wednesday, November 11. Participants are chartering their own course to honor those who have served and to raise funds for the Charlottesville Albemarle SPCA's "Pets for Vets" program and No Greater Sacrifice.
Charlottesville Educational Channel 14 will broadcast the African American Military Experience Program, Telling Untold History, on November 11 at 7 p.m. on Comcast Cable.
ParadeRest is hosting A Salute to Our Veterans and has invited the public to send homemade or virtual "thank you" cards to veterans.
The Goodman Allen Donnelly Veterans Benefit Group is hosting a Free Virtual Legal Clinic for Veterans on November 11. Pre-registration is required. There is no fee and no obligation. To schedule a time, veterans should call 434-817-2187 or register online.
The U.S. Department of Veterans Affairs has published a list of Veterans Day discounts, meals, or other ways businesses and organizations want to give back to veterans on their Veterans Day 2020 Discounts web page.