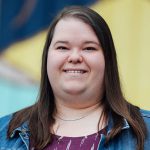 Are you looking to expand your connection with your school community? Lauren Hunt, who recently joined the Office of Strategic Communications as the Web & Social Media Specialist, wants to help! Lauren would love to help you brainstorm ways to work connecting with the community into your busy schedule.
Lauren comes from a journalism background, most recently as Lead Designer at The Daily Progress, and has extensive experience in social media and web presence. After five years in a newsroom, she is skilled at solving problems and coming up with creative ways to communicate.
Lauren grew up in Amherst County before moving to Harrisonburg to attend James Madison University, where she stayed for several more years. She moved to Charlottesville after a quick stint in Winchester at a universal copy desk, which was her first foray into remote working.
Lauren is most excited to help foster a relationship between the community and the school division through online communication. Feel free to contact Lauren at lhunt@k12albemarle.org or at Ext. 13129 with any questions, or just to say hi!