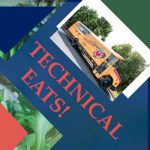 Thursday, May 6, 2021 | 11 a.m. to 1:30 p.m. | CATEC Parking Lot
Grab a delicious lunch this Thursday, May 6, from CATEC's food bus, Technical Eats! We'll be serving lunch from 11 a.m. to 1:30 p.m. in the CATEC parking lot. See below for our menu options and pricing.
A special thank you to all of the County employees who have supported CATEC's student-run business this year. Your support allows culinary arts students hands-on opportunities that are authentic and rewarding.