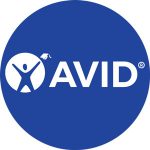 Secondary Teachers: We are excited to offer AVID strategies for your 6-12 classroom this summer! AVID Professional Learning is designed to prepare teachers with the knowledge and skills to implement and execute effective AVID instructional strategies.
Summer 2021 will provide two opportunities for teachers to participate:
Monday-Tuesday, June 28-29: Two full days from 9 a.m. – 4 p.m.; OR
Monday-Thursday, July 12-15: Four half-days from 9 a.m. – 12 p.m.
Both workshops, which will be provided virtually, will include eight professional learning modules, each focused on one aspect of AVID. The goal of the modules is to support teachers in their implementation of AVID strategies with fidelity and depth. Resources provided will support school-wide instruction and systems to help all students and educators be successful.
Full completion of either workshop will provide 12 recertification points AND a $150 stipend. (Please note: You can only attend one workshop.)
Interested?
Please complete the AVID Strategies for Your Classroom form to register for the workshop that best fits your schedule.
Questions?
Please email Katina Dudley or Jay Thomas.