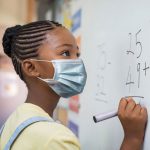 Following recommendations from public health experts and the latest public health data, which is reporting increases in local transmission of the Delta variant of the COVID-19 virus, ACPS has decided that there will be no change in our current mask policy when the new school year begins on August 23.
Revisions made to the division's mask policy at the School Board's July 8 meeting remain in place. Masks are required of all students, staff and visitors in schools, offices, and other school division facilities when students are present. Masks are not required to be worn by students or staff during outdoor activities.
The division's mask policy makes it possible for the division to meet its commitment to provide full in-person instruction to all students while protecting their health and that of our staff.
Also, for one week, ACPS has extended the option to families to change their prior decision on how their child will attend school in the 2021-22 school year. Families may contact their child's principal between today and Friday, August 6, to change between in-person and virtual attendance.
For more details about our mask policy decision, please see the division's July 30 news release.