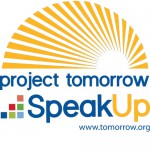 Thank you to all those who participated in last year's Speak Up Survey. Each year, the Speak Up Survey provides vital feedback on a local and national scale about technology in our schools. The Department of Technology has put together the following highlights from the 2020-21 survey results.
The Department of Technology partnered with Project Tomorrow to produce a custom survey for elementary students, which illuminated some of their technology practices:
Over 90% of students in grades 3-5 like doing some amount of school work on a computer.
Most students in grades 3-5 report using their computers for collaborative projects with classmates, learning by playing games, and watching videos made by their teachers.
Secondary students showed strong application of our Digital Citizenship curriculum and felt a new sense of ownership over their technology experiences:
Nearly 90% of our students in grades 6-12 use their computers to look up information they don't understand.
Seventy-one percent of students in grades 6-12 report that they know how to use technology for learning purposes. 
Over half of secondary students feel that technology allows them to control their own learning at their own pace. Even more students reported this when learning virtually.
You can view the full 2020-21 survey results on our Survey Results web page. If you have questions about the survey, please contact Gene Osborn.