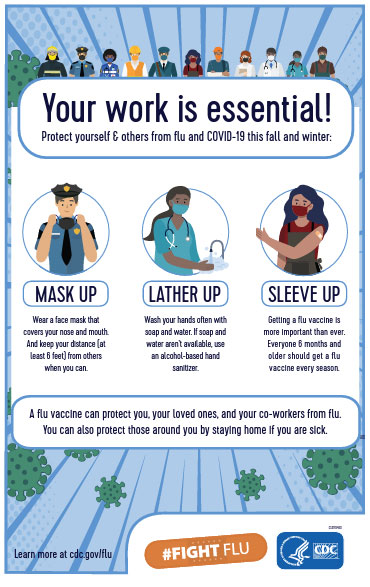 The following article was updated on September 28, 2022, with links to the clinic schedule and vaccine consent form.
We are happy to announce that ACPS and Giant have partnered again this year to bring important vaccinations to 50 school and local government locations throughout Albemarle County. All ACPS employees (including part-time, temporary, substitutes, interns, and student teachers) are eligible to receive flu and other vaccinations with no out-of-pocket cost, even if you do not participate in the school division's health insurance program.
Onsite vaccination clinics are underway and will continue into mid-November. Click here to view the full schedule.
You are welcome to attend any of the clinics held at any of the locations listed on the schedule. You are not limited to your work site or the date on which your work site falls.
What to Bring With You
Please bring proof of identification with you to the clinic of your choice. If you participate in the school division's health insurance program, please also bring your insurance card.
To speed up the process, you are welcome to complete the Vaccine Consent Form in advance and bring it with you. Consent forms will be available onsite as well.
Frequently Asked Questions
Q: What vaccines will be offered this year?
We will be offering Influenza varieties (including high-dose for ages 65+) to protect against flu; Tdap (Boostrix) to protect against tetanus, diphtheria, and pertussis; MMR to protect against measles, mumps, and rubella; Shingrix (for ages 50+) to protect against shingles; and current COVID-19 vaccines & boosters.
Q: Can I still get vaccinated if I'm sick or if I have medical conditions?
There are certain conditions that influence who should and should not proceed with vaccination. For guidance, see Who Should and Who Should NOT Get a Flu Vaccine (CDC) or speak directly with your health care provider regarding your specific concerns.
Q: Can I receive the flu and COVID-19 vaccine at the same time?
Yes, you can get a COVID-19 vaccine and a flu vaccine at the same time, during the same visit, if you are eligible and the timing coincides. For more information, see Frequently Asked Influenza (Flu) Questions (CDC).
Q: Can I bring my child or spouse?
At this time, onsite clinics are limited to ACPS and Local Government employees and public safety volunteers.
Offsite and Family Options:
An adult covered on the County health plan (and any dependent on your plan) may go to ANY pharmacy to get the vaccinations. Pharmacy policies on vaccinating children vary by age, so call ahead for minors or check with your child's medical provider. All you need to bring is your Anthem card to take advantage of this benefit.
An employee who is not covered on the County health plan will need to print a Free Immunization Voucher (link coming soon) and then take the voucher to Giant or Martin's Pharmacy in order to take advantage of this benefit.
Additional Questions or Concerns?
For more information, please visit BeWell Albemarle's Programs & Events web page, or reach out to:
Michelle Bailey, RN, BSN
HR Program Manager, Safety & Wellness
mbailey@k12albemarle.org
434-296-5827, ext. 13941