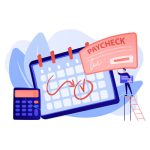 September is a month in which we receive three biweekly checks. As such, the September 30 paycheck will have no optional deductions withheld.* Only the following required employee deductions will be included:
Federal & State Tax Withholdings
Garnishments
Child Support
Arrears (payback for amounts owed)
If you participate in the health or dental plan, you may see a memo referencing the employer contribution; this is not a deduction from your pay. All regularly scheduled deductions will resume with the October 14 paycheck.
Pay stubs are available through the ADP Employee Portal. Please email HR@k12albemarle.org with any questions.
*Those purchasing AFLAC coverage will see a deduction in the September 30 check due to an accounting issue.