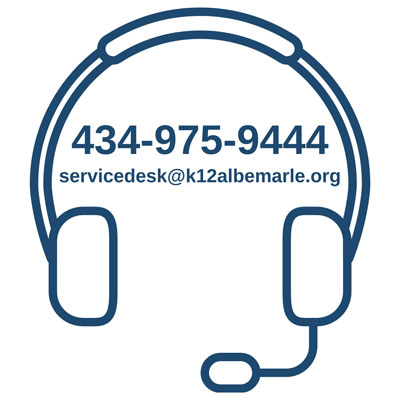 The Department of Technology welcomes you to the 2023-24 school year! We are excited to partner with you. Please let us know how we can best support you in making this a successful year in your classroom!
We have some important updates and tips to share with you:
School-Based Technology Staff Assignments
We have welcomed some new staff members and made adjustments to our Learning Technology Integrator (LTI) and Technology Support Specialist (TSS) building assignments for this school year: 2023-2024 LTI and TSS Assignments. Our school-based staff will stop by your classroom this week to introduce themselves and make sure you have what you need for a successful start!
Password Reminders
All employees and secondary students are required to change their ACPS password by October 13, 2023. You can use our Self Password Portal to manage your ACPS password. Any staff member or secondary student who has not changed their password since June 1, 2023, will be prompted to do so on October 13.
The Department of Technology will reset passwords for elementary students on August 23, 2023, as follows:
Passwords for K-2 students will be reset to their lunch number
Passwords for 3-5 students will be reset to: acps+lunch number
Print Management
We have implemented a new print management solution called PaperCut. This upgrade was implemented in schools a day early, and we apologize that staff had not yet been notified of the change. PaperCut is designed to streamline and enhance the printing experience for all staff and students. Here is what you can expect:
Your ACPS device may contain more printer options.
Copiers and printers designated for staff use will automatically be available in any building you visit.
Printer names will remain relatively the same, but will end with "on acps-print".
Once you have selected a favorite or default printer, it will remain your default printer.
When printing from Chrome, you may need to select "View more options" in order to find the printer you want.
How to Receive Technology Support
We welcome you to contact our Service Desk to request support! Watch this video that explains how to get in touch with the Service Desk team:
Our Support web page is a great resource for requesting technology support! This page includes links for students, staff and families to log a ticket with the Support Desk.
Continue to Use a Cautious Lens
Remember to delete those phishing, spoofing and spam emails and to never give out any personal information, especially your ACPS password (or other passwords) in response to an email. ACPS will never ask for your password via email! Check out this video to learn more about using your "cautious lens":
Technology Resources
The ACPS Technology Resources Library contains a current and searchable list of available resources that have been approved to use in ACPS. Each tile explains how to acquire the tool and any applicable restrictions. If you don't see an application you would like to use, you can select "Request a New Resource" at the top of the page and we will look into the resource for you. Before requesting a new resource, be sure that your administrator has approved the use of it.
The Department of Technology wishes you a great school year!