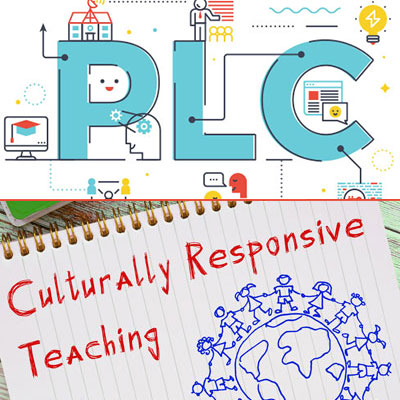 We are looking forward to our next Division Professional Learning Community (DPLC) and Culturally Responsive Teaching (CRT) Professional Development (PD) Day on Friday, September 29. Please reference the schedule for the times and locations of your DPLC meetings and your Culturally Responsive Teaching PD.
Important Notes:
Not all DPLCs are meeting based on level. Please check each DPLC offering to find your group.
If you are unable to attend your grade-level CRT PD because it conflicts with your DPLC meeting time, please attend the session that offers the most benefit and convenience for you.
As a reminder, the following dates are reserved on our 2023-24 School Year Calendar for DPLC meetings and CRT professional development: September 29, October 30, January 25, March 5, and April 29.
More About Our Culturally Responsive Teaching Credential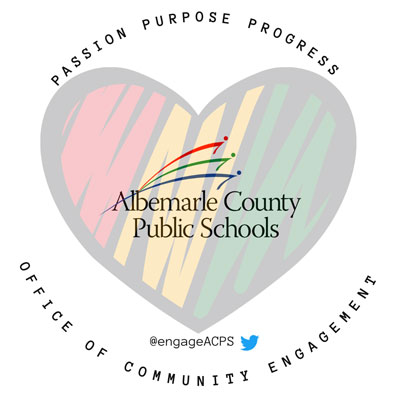 The ACPS strategic plan sets the goal for all licensed staff to earn an ACPS Culturally Responsive Teaching Certification or Micro-Credential by 2026 (or, for new teachers, within three years of hire). Currently, we have over 380 credentialed educators in the division, and another 530 have already registered their 2023-24 plan in the Professional Learning Management System (PLMS). Keep reading for information about what you should register for prior to the launch of our current-year programs on September 29.
Zaretta Hammond's Culturally Responsive Teaching and the Brain Book Study
This book study is the prerequisite for culturally responsive credentialing in ACPS. Check out our book study overview to learn more. Our team of equity specialists has made an effort to reach out to all teachers who do not have a record of the book study in the PLMS and to provide an opportunity to record prior book study participation, if needed.
Any teacher who does not have a record of the book study in their PLMS transcript should use this link to register for an appropriate book study. (Hint: Use the "Sections" tab to view the various offerings.) Many schools are offering on-site, in-person sessions for their staff. If no in-person option exists for your site, you may register for a virtual book study for the elementary, middle, or high school level. Book studies will begin on September 29 and will meet during each of the division's five DPLC/PD days, with three asynchronous sessions.
Culturally Responsive Teaching Micro-Credential
All teachers with a record of book study completion in the PLMS should register for the three micro-credential courses. Click here for an overview of what you need to know about micro-credentialing. Use the links below to register through the PLMS:
The ACPS Micro-Credential will be awarded upon completion of all three courses.
Culturally Responsive Teaching Certification
Teachers may choose to pursue full certification in culturally responsive teaching instead of a micro-credential. The certification process this year will be similar to last year's process, requiring the submission of a final project showing professional learning and growth, evidence of application, and documentation of student growth. See our Certification Overview for more information, and use this link to register for a cohort meeting on DPLC/PD days.
This will be the last year that teachers will be able to earn full certification without first completing the micro-credential. The graphic below represents the rationale for and progression of our Culturally Responsive Teaching pathway with the goal of every licensed staff member achieving the micro-credential by 2026 (or in the first three years of hire for new teachers).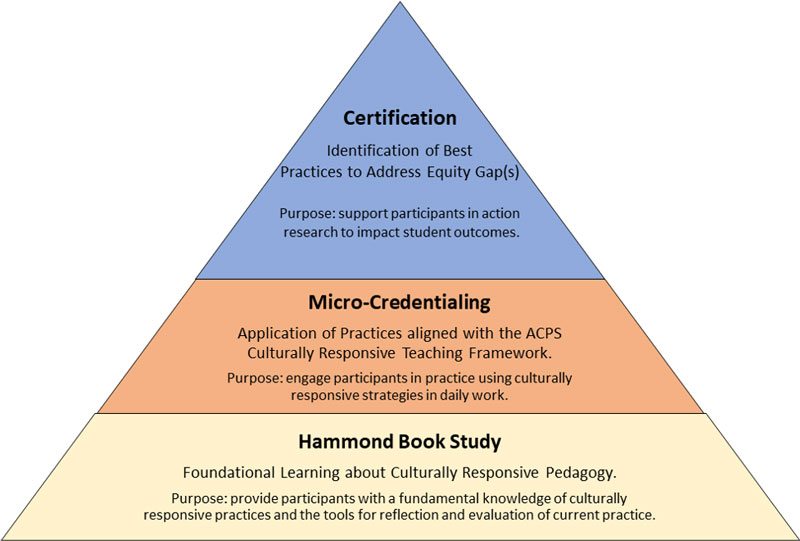 ---
ACPS Equity Specialists are available to provide Professional Learning Community (PLC) and school-level support for Culturally Responsive Teaching practices and to assist in helping teachers work through the credentialing process. For support or assistance, please reach out to the specialist(s) assigned to your school or email ACPSEquitySpecialists@k12albemarle.org.