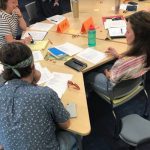 Calling all teachers in grades 4-12: The 3rd cohort of the Albemarle County Writing Collaborative (ACWC) is now accepting applications! This is a professional learning experience where we pay YOU ($500 stipend) AND you earn 40 recertification points! Apply to Cohort #3 »
The Writing Collaborative seeks to build a community of teacher leaders who value writing as a practice, but also as a method for students to connect and learn. The ACWC is not just for English/language arts teachers!
When you sign up to participate in the ACWC, you agree to engage with your ACPS colleagues in three phases:
ACWC Summer Institute (June 22-26, 2020): Participate in a week-long experience facilitated by ACPS writing instructors.
ACWC Instructional Rounds (one day in fall 2020): Spend one day traveling the county visiting amazing writing classrooms.
ACWC Contribution (spring 2021): Create a resource (lesson, PD experience, activity) to give to the ACPS writing community.
What do members of Cohort #1 and Cohort #2 have to say about their ACWC experience?
"Awesome experience! This was a wonderful exposure to resources and strategies at the perfect time to help me generate and recreate lessons for the coming year. I now want to implement a writer's workshop to bring more choice and power to my students."
"I knew I would learn a lot, but I had no idea that I would make new friends. Summer Institute was such a bonding experience."
"It's been easy for me to bring the philosophy of the workshop model to my science classroom."
Apply for the 2020-2021 ACWC Experience »
Questions? Contact Maureen Jensen, Thomas Warren, or John Worozbyt.