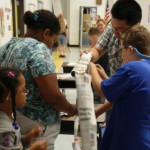 Are you interested in exploring project-based learning with other ACPS educators? Two workshops are scheduled to begin this month, and you should consider enrolling in one or both!
Integrating Instruction through Project-Based Learning – October 28; November 4, 11, 18 and 25; and December 12
​Summary: Teachers will bring theories of interdisciplinary learning, habits of mind, and lifelong-learner standards to life in their classroom practice through this exploration of interdisciplinary instruction. Applicable for K-5. Learn more >>>
Facilitators: Laura Richardson and Hollins Mills
Project-Based Learning – October 23, 24 and 29
Summary: This workshop series is designed to investigate how to bring the curriculum alive through projects where student choices, student passions, and student creativity are essential parts of the learning process. We will develop in-depth, comprehensive knowledge of project-based curriculum, assessment, and instruction that is authentic and personal. Learn more >>>
Facilitators: Teresa Goodin and Jeff Prillaman
Visit the Professional Development website for professional learning resources as well as more workshops like these!