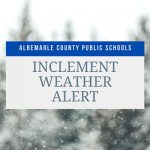 In advance of the winter weather forecast for our area this Sunday and Monday, we want to make sure you are aware of the various scheduling options we will consider and how to find out about school schedule changes. Teachers and staff are encouraged to take home any materials they may need in case we close schools to students, in which case all learning will occur virtually.
The most complete resource for information is our Closings, Delays & Early Dismissals web page, which explains our inclement weather decision-making process and details our scheduling options, our decision and communication timelines, all of the ways you can find out about schedule changes, and more. For your convenience, we have included below the information we think will be most helpful to you ahead of this winter storm.
As a reminder, beginning Monday, February 1, ACPS will be back in Stage 3 of our Return to School plan. Stage 3 provides in-person access to certain students in Grades 4-12 and offers a hybrid learning option (including two days per week of face-to-face instruction) for all students in Grades PK-3.
ACPS approaches inclement weather decisions with the safety of our students, staff, and other members of our community as our primary concern. Due to the variety of environments in which our students are currently learning, ACPS will consider the following division-wide options when bad weather becomes a factor in the school schedule:
Please note: ACPS will consider individual school closures in response to loss of power.
Individual School Closure
Power is an important component of our COVID-19 Heating, Ventilation, and Air Conditioning (HVAC) Protocol. If a school is experiencing a power outage prior to the start of the school day, we will close the affected school. More details »
Families, employees, and other community members can learn the division's school schedule status during inclement weather in several ways:
School Schedule Hotline
Community members may call 434-296-5886 to listen to a prerecorded message about school operations for the day. This recording is updated by 5:30 a.m. (Para español, llame al 434-975-9332.)
Electronic Alert: Phone, Email and/or Text
Parents and guardians are provided an opportunity at the start of each school year to enroll in the Electronic School Notification System to receive notifications from the school division by phone (landline or cellular), email and/or text. Parents and guardians may also enroll at any time or change their preferences by contacting their child's school.
Albemarle County Public Schools website
The division will activate our web alert system to help communicate school schedule changes. The system uses pop-up messages to alert website visitors to important information.
Local Media Outlets
School schedule changes are broadcast on several local radio and television stations, as well as local media websites.
Each inclement weather event is unique. When ACPS is facing adverse weather conditions, we strive to make and communicate decisions that impact the school schedule as early as possible to allow families and staff to prepare for the disruption to their schedules. While we sometimes have enough information to make and communicate scheduling decisions in the evening, our early morning decision-making process aims to notify families of schedule changes between 5:30 and 6 a.m.
Again, please refer to our Closings, Delays & Early Dismissals web page at www.k12albemarle.org/closings for more specific details about our inclement weather decisions.